It has been a rough few days around here. Cell phone issues , work issues..yada yada yada. So I think I will stay in for my week-end. What does that mean for you my dear readers? A bonus movie and some fav food to go with it. So for my 2 pick I choose "Playing By Heart" a Little know film. With an All Star cast. Enjoy!

"Playing by Heart"~
Among the characters are a mature couple about to renew their vows (Sean Connery and Gena Rowlands); an anti-social woman (Gillian Anderson) who accepts a date offer from a stranger (Jon Stewart); a man dying of AIDS (Jay Mohr) and his mother (Ellen Burstyn) who has struggled to accept him; two clubbers who meet in a nightclub (Ryan Phillippe and Angelina Jolie); a couple having an affair (Anthony Edwards and Madeleine Stowe) and a man (Dennis Quaid) who tells his tragic life story to a woman he meets in a bar (Patricia Clarkson), but seems to have a strange connection to another mysterious woman. As the film continues and the stories evolve, the connections between the characters - both literal and subtextual - become evident. Kellie Waymire, Nastassja Kinski, Alec Mapa, Amanda Peet and Michael Emerson also have roles in the film.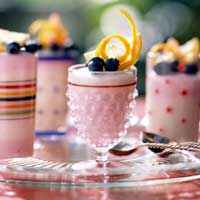 Playing by Heart Pink Lemonade Mousse

Ingredients:
1/3 cup granulated sugar
1 envelope unflavored gelatin
1 cup water
2/3 cup frozen lemonade concentrate, thawed
4 drops red food coloring
1 cup whipping cream
1/2 cup fresh blueberries
3 thin lemon slices, halved
Lemon peel curls (optional)

Instructions:
1. In a small saucepan combine gelatin and sugar; add 2/3 cup of the water. Cook and stir over medium heat until dissolved. Remove from heat. Stir in remaining water and lemonade concentrate. Divide mixture in half, transferring each to a medium bowl. Stir red food coloring into one portion of the mixture. Cover and chill about 1-1/4 to 1-1/2 hours or until mixtures mound.

2. In a chilled bowl beat whipping cream with an electric mixer on medium speed until soft peaks form (tips curl); set aside.

3. Wash beaters. Beat plain lemonade mixture with electric mixer on medium speed about 30 seconds or until light and foamy. Beat pink mixture until light and foamy. Fold half the whipped cream into each lemonade mixture.

4. Carefully layer plain mixture and pink mixture into 6 small serving glasses or dessert dishes, dividing evenly.

5. Cover and chill at least 2 hours before serving. Garnish with fresh berries, and if desired, citrus slices and lemon peel curls.